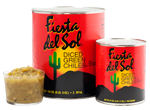 OUR PRODUCTS WERE BORN IN THE KITCHENS OF OUR FAMILY RESTAURANT.
With over seven decades in the restaurant business, we created Fiesta Canning foodservice products out of a desire to provide restaurants with the highest quality Mexican ingredients. These roots allow us to wholeheartedly understand the unique needs of foodservice professionals and deliver ingredients and products that help your establishments shine.
Fiesta Canning is the one of the largest Family owned green chile processing plant located in the United States, which means our pricing is highly competitive. Additionally, we're capable of creating custom and private label products in addition to our core product offering.
Fiesta Canning offers both fire roasted and steamed green chiles––both are full of great flavor.
Crisp and crunchy, these Jalapeños offer great flavor, texture and just the right amount of heat.
Available whole or crushed, our Tomatillos are all natural with no fillers.
SAUCES, CHILE PASTE & SALSA
Our sauces & pastes are made with fire roasted peppers, simple spices and a signature roux for great texture and taste.
OUR HIGH-QUALITY INGREDIENTS ARE ALSO AVAILABLE FOR HIGH-VOLUME APPLICATIONS.
Fiesta Canning's products can be packed in 55 gallon drums and five gallon bag in a box containers for large-scale manufacture use. All products adhere to the highest quality and toughest safety standards. Our plant is audited by Sillker, a third party auditing and consulting firm who helps ensure quality, safety and nutrition.  Click the link below to contact us for more information!
CONTACT US